Ecolux Bagh Sarai Resort Bandhavgarh
Welcome to Simply Offbeat's Ecolux Bagh Sarai Resort Bandhavgarh webpage.
BIG CAT COUNTRY. A truly eco-conscious wildlife project, uniting conservation, communities and sustainable tourism…
About Ecolux Bagh Sarai Resort Bandhavgarh: Ecolux Bagh Sarai Resort Bandhavgarh is a Boutique Wildlife Resort located in Bandhavgarh National Park (MP), possibly the best wildlife sanctuary for spotting Tigers in the wild. The resort is an Eco-friendly Luxury retreat surrounded by forest on 3 sides. This is a place to Rejuvinate, Recharge and Refresh in the lap of rustic Luxury. This is where you breathe the air fresh, you see the stars shining brighter and experience quietness and solitude.
The Resort: Ecolux is a Boutique property spread across 12 acres of land that stands true to its name of Environment friendly Luxury . With 7 stand alone luxury bungalows and 3 luxury tents surrounded by forest on 3 sides makes this a retreat away from the stress, pollution, and din of the city life. The central hub of the resort is a space for lounging, dinning and other social activities. We also acknowledge that food is an integral part of a great holiday experience and we comply on this aspect as well.
About Bandhavgarh National Park: Bandhavgarh National Park-Madhya Pradesh, is one of the most prominent wild life sanctuary in the wildlife circuit of India. It is believed to have the highest population of Tigers and it is said that it is difficult not to spot one during the Safari. Bandhavgarh National Park is a wildlife sanctuary in Madhya Pradesh. It has the highest density of tigers in the region. Hence, greatest chance of spotting a tiger. The core area of the park is spread over 100 square kilometers and is home to more than 70 tigers.
The park is known as the land of the white tiger, even though white tigers no longer exist here. The last white tiger spotted in the wild was captured here by Maharaja Martand Singh of Rewa in 1951.  Other animals in the park include chital deer, sambar deer, barking deer, wild boar, nilgai antelope, four-horned antelope, Indian Bison, wild dog, leopard, blue bull, Indian fox and bear.
Tip: Tala Zone 1 is the best area to spot tigers; safari tickets for the zone should be booked well in advance at http://www.mponline.gov.in/Portal/Services/Forest/FinalForest/foresthome.htm.
Best time to visit: The park is open from October to June, but the best time to see tigers is from April to June. As temperatures rise, wildlife tends to congregate around watering holes.
Nearest Airport: Jabalpur Airport is 197 kilometers away, about four hours by car.
Nearest Station: Umaria station is only 22 kms from Ecolux Bagh Sarai Resort Bandhavgarh National Park.
Reviews: http://www.tripadvisor.in/Hotel_Review-g679039-d1157105-Reviews-Bagh_Sarai_Resorts-Bandhavgarh_National_Park_Madhya_Pradesh.html
Accommodation:
The design schematic is purely all ancient methods that served to unify and balance of wildlife and nature. Within and around the entire resort one can feel the spirit of the place. The contemporary modest architecture and interiors blends effortlessly with the Jungle.
The Private Bungalows lay out along an alliance that is surrounded by the forest of Sal trees. The Bungalows have been planned with utmost care without spoiling the mood of nature – the exteriors carry a traditional look such as a "Jhopri" the traditional tribal village houses. While the interiors exude luxury and style.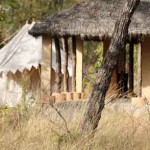 The Bungalows have huge space inside and outside giving privacy and peace, all wooden flooring. Bath with shower, Bath tub and toilets en suit but separated. The natural scenery has been considered while designing the Bungalows, giving it an open feel. Nature has been brought into the interiors. Garden chair placed in front of the bungalows for perfect viewing encountering birds & other wildlife.
The Theme and Ethics
The basis for color has been khaki as the resort is situated within a jungle and wildlife around. The connecting walkways, the detailing of lighting in harmony with the hundred percent natural plantations all come together. You might encounter or see Jackals as you walk along these paths as if endorsing how comfortable wildlife is with our eco-friendly conscious construction techniques.
The nature and social responsibility
To give a natural feel, most materials have been procured from the local villages ensuring money goes within the local community. All interior walls of the Private Bungalows are waste of marble grinded to a paste for using as a finish for the walls. No plaster or other chemical treaded color used. As part of our social responsibility we ensured to use local manpower and skill for the construction of the resort. Not just the construction, we continue to involve the locals by training and employing them to run Bagh Sarai giving employment and generating income for the locals.
The central structure houses the reception, the restaurant, Separate sitting area and other facilities like the beautifully designed bar known as Jackal's House.
Shikhar Tents: These are elegant Shikhar tents with basic amenities but yet finished luxuriously, these tents draws their name from the kind of accommodation Maharaja's used while their jungle excursions in the period of Mughal era of India. Twin beds –side table rack for luggage –Study Lamp-two garden chairs outside of the tent-attached bath with running tab hot water on request –washbasin with mirror-English commode.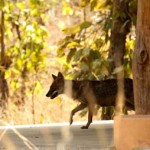 The Mohini: We have a small tribal shop with all hand made and excellent stuff for souvenir must visit to see the selection and what ever you buy that is on no profit no loss basically run by our tribal staff and profit goes to them as family welfare.
Dinning The "Sal Ghar": Flooring in restaurant with a mildly unfinished look giving uniqueness both in terms of texture and the material.
Tariff:
Rs. 6500/- for double occupancy for 2 nights stay.
Rs. 5,600/- for double occupancy for 3 nights stay.
Inclusions- Room + All meals (Breakfast, Lunch & Dinner). Rates are per Room per Night.
We would love to plan a Happy Trip for you
Please call us on +919820976655/+919821232094 or email us at contact@simplyoffbeat.com
7 to 15 days – No refund
15 to 31days – 60% refund
31to 45 days – 80% refund
Jungle safari Charges. Rates- Inclusive of Jeep Rentals, Park Entry Fee & Guides. Max of 6 adults can be accommodated in a Jeep.
For Indians:
Tala Zone – Rs. 5500
Magadhi & Khatouli Zone – Rs. 4500
For Foreigners:
Tala Zone – Rs. 7000
Magadhi & Khatouli Zone – Rs. 5500
A day at Bagh Sarai
Our days at Bandhavgarh begin in the early morning; we enter the park before sunrise. Initially we will be looking for signs of Tiger movement, pugmarks and listening for the alarm calls of Langur monkeys, Chital and Sambar Deer. We continue our game drive before returning to our lodge for breakfast. Time is now available to explore the lodge grounds or simply relax. After lunch we re-enter the park by jeep looking for wildlife and Tigers. Just before sunset predator activity increases and Tigers, Leopards and Sloth Bears may be spotted. Returning to our lodge there is time for a shower before drinks & dinner.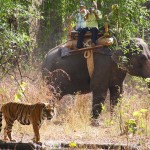 When the sunsets wandering Chital Deer, Wild Boar and Jackals, are attracted into the peaceful grounds and the well-established fruit trees attract many resident birds. While nearby the Indian Wolf and Wild Dog have been spotted. As we sip a pre-dinner drink, the evening chorus of the Mottled Wood Owl in the branches of the Sal trees and packs of communicating Jackals begins.
In-between game drives explore forest trails, which lead into thicker jungle and to traditional tribal villages.
Anytime of your visit if you wish to visit to the village school can be organized just 2 minutes from our main gate. Please note needs to inform our staff well in advance and keep in mind that school closes on weekends and on vacations.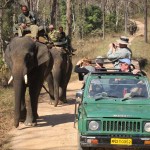 "The secret for fantastic Tiger sightings is to visit the very best National Park, have the best local naturalist guides and allow plenty of time". Ann Brooks